Catch the latest Club News!
* To join or rejoin the club, download our Membership Application Form
here
.
* To book a boat (members and visitors) – phone 01382 370300.
* Club Bookings – mailto: <
club-bookings@monikie-angling-club.org.uk
> or phone: 01382 477996.
The fishery is now closed until Saturday 5 March 2022
The Monikie Angling Club committee is pleased to say the North Pond can re-open for fishing from Monday, September 27 due to an improvement in water quality.
North Pond closed to fishing
Important notice to all anglers.
Due to ongoing algae problems on the North Pond the Monikie Angling Club committee has decided to suspend all fishing on the North Pond until Monday, September 20.
Island Pond open as usual.
Check this page regularly for any future updates.
Club president warns of algae bloom
There has been a bit of an algae bloom on the North Pond.
The parks management has cancelled all watersports but angling can continue as we are not an immersion sport.
I ask all anglers to observe basic hand hygiene when fishing to avoid ingesting any water. SEPA are to be carrying out testing today (Wednesday, August 25), and results are due by the weekend.
It should be noted there may be some limited watersports on the Island Pond especially at the weekend.
– Ian McLean, President
Family tribute to much loved club
founder member
When our dear friend, David Leiper, died in February 2020, aged 66, his family was keen his memory should live on at Monikie Angling Club.
Accordingly, they very kindly presented the magnificent bench pictured above, in his name.
David was a founder member of the club, and joined the committee as treasurer in 1984, a position he held until ill health forced his retirement.
He was an enthusiastic and expert angler who loved fly fishing at Monikie and could always be relied upon to "winkle one out".
Along with his wife Alice he was also an accomplished golfer and after retiring from his job as chief accountant at the Old Course Hotel in St Andrews spent some time as a caddy at Carnoustie.
We are sure the new bench will be well used by anglers and visitors alike and help keep all the memories of David in our minds.
Aaron Philip is club champion
Twenty-four anglers contested the club championship final on the evening of Friday, June 25.
It was an evening of mixed success with Aaron Philip emerging as the triumphant winner with 14 fish and a total weight of 30 lbs 2 ozs.
On a difficult evening, Aaron just pipped past winner, Neil Anderson, into second place with 13 fish (24 lbs 14 ozs).
Colin Elder was third with 10 fish for 19 lbs 13 ozs.
CLUB CHAMPIONSHIP FINAL, BOAT PAIRINGS
Club Championship Final to be held on Friday June 25 at 6 pm.

BOAT 1 – I Crighton and A Low

BOAT 2 – D Anderson and J Stuart

BOAT 3 – F Ross and S Duncan

BOAT 4 – D Marfizo and K Giblin

BOAT 5 – K Dickson and K Duncan

BOAT 6 – B McLellan and I Anderson

BOAT 7 – J Geddes 263 and G Potts

BOAT 8 – B Bosch and M Tidcombe

BOAT 9 – N Anderson and I Walton

BOAT 10 – C Elder and A Phillip

BOAT 11 – J Stevenson and K Robertson

BOAT 12 – M McCrumb and J White
Due to adverse weather conditions, it has been decided to delay the opening of evening sessions until Saturday, April 24.
Half day sessions start March 15
Good news! We are starting half day sessions on the Island Pond from Monday, March 15, 2021.
Members £10 per rod, visitors £15 per rod with a two fish limit.
Sessions are 8.30 am - 1.00 pm or 9.00 am - 1.30 pm.
Boats only bookable one day in advance.
AGM cancelled due to pandemic
Due to the pandemic, the club's AGM, due to be held in December, 2020, was cancelled, with the agreement of the membership.
The members also mandated the committee to make decisions on their behalf for season 2021.
It has been decided to keep all boat hire and membership fees at the same level as in 2020.
These are available on this website.


Election of Office Bearers
The following were elected unanimously (by letter or email) by the members:
President – Ian Mclean
Treasurer – Duncan Inglis
Secretary – Ian Duffus
Fish Convener – Brian Wilkie
Hut Convener – Tom McKay
Baliff Convener – Fraser McKay
Membership Convener – Steve Carmichael
Booking Convener – Peter Craft
Fly Fishing & Fly Tying Magazine`
The lucky winner of an annual subscription to the fantastic Fly Fishing & Fly Tying magazine is Tom McKay,.
Raffle winners to be drawn monthly from April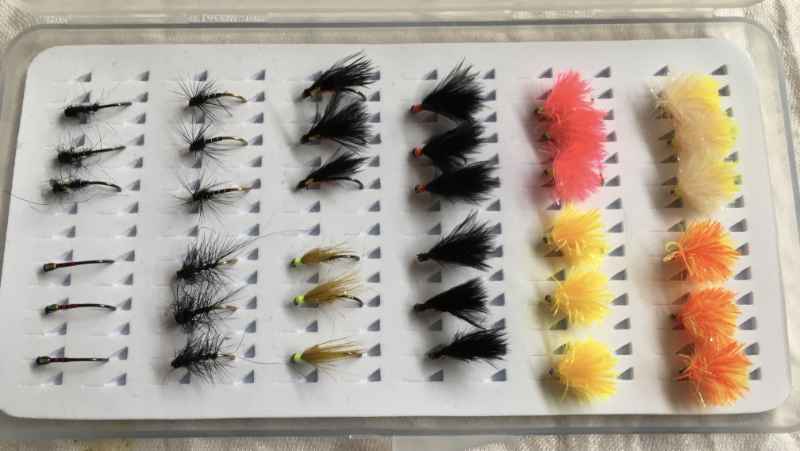 April
Winner of Airflo reel or fly line, sponsored by Neil Anderson at Angus Angling, is Colin Warden.
Winner of the above pictured fly box with flies tied by Aaron Phillip is George Noble.
Congratulations!
May
Angus Angling, Ian Walton
Box of Flies, John Carmichael
June
Angus Angling, Peter Walls
Box of Flies, Andy Brown
July
Angus Angling, William Findlay
Box of Flies, Iain Anderson
August
Angus Angling, Graham McKay
Box of Flies, Edward Seaward
September
Angus Angling, Tom McKay
Box of Flies, Ed Fullerton
October
Angus Angling, Edwin Fleming
Box of Flies, John Whyte
NB – CLUB COMPETITIONS
2021 Club Championship
Winner – Aaron Philip
Runner-up – Neil Anderson
3rd Place – Colin Elder


2021 Stewart Brymer Trophy
Cancelled due to Covid restrictions.



Heaviest Fish of the Month
Cancelled due to Covid restrictions.





Get in touch
Address: Monikie Angling Club, Monikie Country Park, Dundee DD5 3QN.
Phone/email
Phone: 01382 370300 to book a boat.
email: admin@monikie-angling-club.org.uk