Frank is 2022 Club Champion
First and Second place separated by ONE OUNCE!
In one of the closest-run contests ever, Frank Ross won the 2022 Club Championship – by one ounce – with a total catch of 24 lbs 13 ozs.
The Championship took place at the Island Pond, Monikie, on Friday, July 1, in what was described as "challenging" conditions.
In the hard fought battle for the heaviest catch, Alan Green came a VERY close second with 24 lbs 12 ozs, and Aaron Phillip was third with 18 lbs 2 ozs.
Club Championship 2022 Finalists
The final of this year's Club Championship will take place on Friday, July 1, with 22 keen fly fishermen chasing glory on the Island Pond.
Tight lines and good luck to all taking part.
Club Championship boat pairings 2022
Heat 1, Tuesday 21 June. Boats on the water, 6 pm.
Boat 1 – Dave Anderson, Ian Walton
Boat 2 – Jim Stuart , Ian Crighton
Boat 3 – George Potts, Stewart Richmond
Boat 4 – John Tolmie, Jim Doyle
Boat 6 – Doug Borthwick, Jerry Forteath
Boat 7 – John Geddes, Alex Low
Boat 8 – Mike Tidcombe, Frank Ross
Heat 2, Friday 24 June. Boats on the water, 6 pm.
Boat 1 – N Anderson, R Gibson
Boat 2 – Aaron Phillip, Iain Anderson
Boat 3 – Ken Giblin, Graham McIntosh
Boat 4 – John Stevenson, George McRither
Boat 5 – Alan Green, Marcus Smith
Boat 6 – Keith Robertson, Jim Whyte
Boat 7 – Ben Bosch, Bob McLellan
The final will be fished on Friday, July 1.
Due to unforeseen circumstances, there will be NO EVENING session tonight (Saturday, May 14), at Monikie.
Normal service resumes on Sunday, May 15.
The club apologises for any inconvenience caused.
Club Championship dates announced
Thirty members have put their names forward for the Club Championship, so there will be two heats followed by a final this year.
The heats will be held on Tuesday, June 21 and Friday, June 24. The final will be fished on Friday, July 1.
Letters are on their way to all entrants.
It is essential these are responded to so heats pairings can be finalised. Please reply to the secretary, following the options in the letter.
Tagged fish released in Island Pond
The hunt is on!
Six tagged rainbows – all around the 3 lb mark – were released into the Island Pond on Wednesday, May 4.
And there are super prizes on offer to the first two lucky fly fishers to catch tagged fish – a double voucher each generously donated by club president, Brian Wilkie!
So come on – get out on the water and find those trophy fish!
North Pond open for fishing Wednesday, April 27
Great news for all fiy fishers – Monikie's popular North Pond opens tomorrow, Wednesday, April 27.
We've been waiting for water levels to come up to operational levels, and thankfully, now they are, though probably still a few inches below the height we would prefer.
Five boats are ready to be hired, but take care when entering or leaving them as they're a wee bit lower at the jetty than previously.
Although the pond hasn't yet been stocked (it will be on May 4) a lot of moving fish have been seen so, coupled with the fact the pond hasn't been fished so far this season, a lot of good sport is expected.
The good news just rolls on and on . . .
Exactly one week after Keith Bonnar landed a whopper of 8 lbs 8 ozs, it happened again!
Well almost.
Fishing a black dancer on an intermediate line, Richard McLeary hooked and landed another monster, this time weighing in at 8 lbs 4 ozs.
Another cracker – just look at that magnificent tail – from the Island Pond, which is showing some outstanding fishing at this time.
With some of the best – and best value – fishing in the country, and evening sessions now under way, YOU must get out there NOW!
You'll be annoyed with yourself if you miss out.
Photo by Scott Fraser.
Keith lands a monster of 8 lbs 8 ozs!
Congratulations to a delighted Keith Bonnar as he proudly shows off his catch of the season so far – a superb eight and a half pound rainbow, and another at a mere 5 lbs!
Fishing a black and silver humongous on an intermediate line, Keith said that, surprisingly, the five-pounder gave him a harder fight than its bigger cousin.
His bag for the day (Monday April 11) totalled five fish for 18 lbs 4 ozs.
And he returned "half a dozen or so".
Not a bad day out, Keith. Not bad at all!
Photo by Jerry Forteath.
Opening Day joy for Dave Roy!
After the disappointment of having to delay the opening of Season 2022, it was great to see the huge turnout for Opening Day on Saturday March 19.
All 12 boats on the Island Pond were taken by keen fly fishermen, anxious to catch their first trout of the season.
On a beautifully sunny, if chilly, morning, it wasn't long before the first fish was in the boat.
In fact, that took only 15 minutes, and the honour went to long-standing club member Dave Roy.
Out of the 24 anglers taking part, only one was ignored by Lady Luck.
Dave went on to have a terrific session, with the outstanding catch of the day, fishing a small black and green lure on a slow glass line – two superb six-pound rainbows (pictured) weighing in at a magnificent 12 lbs 4 ozs!
His boat partner also did well, fishing mainly buzzers on a floating line. They returned 10 between them.
"The number of offers at times was fantastic," enthused a delighted Dave.
In total, 50 fish were kept, weighing 105 lbs 10 ozs, with 62 being returned. Among other popular flies, Dawson's Olive, Kate McLaren, orange blob and purple booby all attracted fish, on intermediate, floating and slow glass lines.
A great day indeed which surely heralds a fantastic season ahead at Monikie.
Season to open on Saturday March 19
Great news! Water levels have recovered to a suitable depth to allow the club to open for season 2022.
Anyone wishing to book a boat for sessions between Sunday March 20 to end of the month can do so by phoning Peter Craft on
07775 136171
from Monday March 14 to Friday March 18 between 6 pm and 8 pm.
Thereafter, normal booking arrangements by phoning the Bailiff (see right, or below on mobile) apply.
Due to the ongoing, and overrunning, works being carried out at Monikie, the water levels in the ponds are very low. The lack of water is completely out of the club's control and in spite of our continued best efforts the situation has not yet been resolved.
Therefore, the committee has reluctantly decided to postpone the opening of the 2022 season, in the first instance, until March 19, but this is dependant on water levels.
As previously advertised, it was intended to open on March 5, so members and visitors should refer to this website, the club's
Facebook
page or the recorded message on the booking phone number – 01382 370300 – for updates regarding season opening.
This is hugely disappointing for everyone but unfortunately these matters, in spite of our many representations to AngusAlive, are completely out of the club's hands.
By way of some compensation, the evening voucher which is included in the annual subscription will, for 2022, be able to be used for any session, day or evening.
We hope this situation can be resolved soon. Plans are in hand for the preseason stockings to take place and will be at the same level as in previous years.
Raffle winners to be drawn monthly from April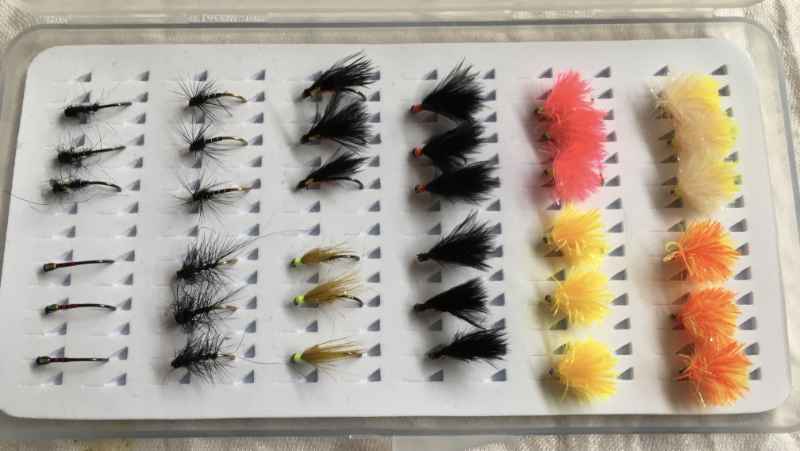 April
Winner of Airflo reel or fly line, sponsored by Neil Anderson at Angus Angling, is Richard Caddell.
Winner of the above pictured fly box with flies tied by Aaron Phillip is David Couper.
Congratulations!
May
Angus Angling, Ian Lightfoot
Box of Flies, Eddie Geddes
June
Angus Angling, Alister Ramsay
Box of Flies, Doug Borthwick
July
Angus Angling, Harry West
Box of Flies, Harry Anderson
August
Angus Angling, Dave T. Anderson
Box of Flies, Alex Murray
September
Angus Angling,
Box of Flies,
October
Angus Angling,
Box of Flies,
Get in touch
Address: Monikie Angling Club, Monikie Country Park, Dundee DD5 3QN.
Phone/email
Phone: 01382 370300 to book a boat.
email: admin@monikie-angling-club.org.uk