MONIKIE ANGLING CLUB IS CLOSED
Due to the coronavirus pandemic, Monikie Angling Club is closed until we are advised it is safe to re-open.
UPDATE! SEE NEWS PAGE
Catch the latest Club News!
Countdown to opening day has begun!
Lockdown is to be relaxed at last but we don't yet have a date for reopening. In the meantime, the Club has a lot of preparatory work to do for social distancing etc. We are not yet in a position to take bookings but keep checking back here, and on our FaceBook page for updates. All going well, we'll soon be back out on the water!
Club closed but raffles to continue
Great news, folks! It's been decided we should continue with the raffles for Angus Angling rod, reel or fly line, or a box with flies tied by Aaron Phillip. Winners will be notified here and on our Facebook page. Aaron's flies are available for winners now, but of course Angus Angling is closed during the pandemic and raffle winners can pick up their prizes when the shop re-opens. Good luck!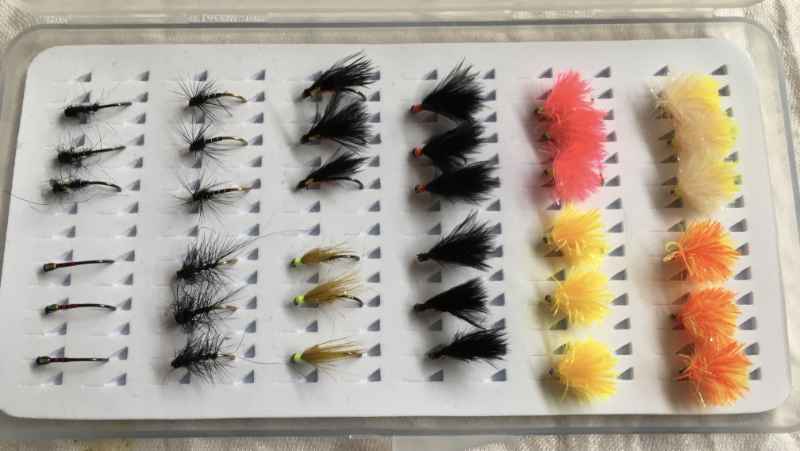 And the winners for April are:
Kingsley Davidson wins an Airflo rod, reel or fly line, sponsored by Neil Anderson at Angus Angling.
Mike Tidcombe wins the above pictured fly box with flies tied by Aaron Phillip.
Congratulations, chaps!
May:
Angus Angling, Jack Reid.
Box of Flies, John McDougall.
Free evening session with new Loyalty Scheme
A loyalty card scheme has been introduced for members and visitors fishing at Monikie during season 2020.
Pay for any five sessions and get one evening session free.
Loyalty cards are available, from the duty bailiff, for anyone fishing at Monikie.
The bailiff issuing the card will fill in the angler's name and either their membership number or in the case of visitors, their address. The bailiff must also sign and date the card.
When an angler pays for and fishes any session at Monikie the duty bailiff will initial and date one of the boxes on the loyalty card.
Once five bailiff signatures have been collected, the holder of the card is entitled to a FREE EVENING session, with a full five fish rod limit, on the Island or North Pond.
NB – The Committee reserves the right to withdraw the loyalty card scheme at any time.
However all cards issued will be honoured during 2020.
One of the best opening days ever!
Once again, opening day at Monikie was very well supported on Wednesday March 4, 2020.
A total of 24 anglers (including angler/photographer David Murray who is at the other side of the lens), turned out on a beautiful sunny day.
And what a day it turned out to be.
As club president, Ian McLean, said, "One of the best opening days of recent years. The weather was perfect apart from a heavy frost and having to break the boats free from the ice around the jetty!
"Fish were caught on floating or intermediate lines with a variety of lures including Nomads, Humungus, Cats Whiskers and Minkies.
"Some cracking fish in the 4-5 lbs class were returned including one brown estimated at 2 lbs 8 ozs.
"Hopefully that has set the tone for a great season.
"If you have not already done so get your membership renewal in, or if you want to join the club go to our website for full details."
Application form
here
All 12 boats were out on the Island Pond, where 18 rainbows were kept, weighing just over 40 lbs, with 25 fish returned, including three browns, all on the Island Pond.
David Roy caught three tagged browns from his first nine fish caught, which must be some kind of record. He kept two tags, claiming one voucher. All three browns were returned, including one still with the tag attached.
The Borthwicks caught another of the tagged fish, to claim a voucher. In all, they caught six fish,, including a rainbow of 4 lbs 7 ozs.
Over at the North Pond, where two boats were out, one fish was kept and one returned.
A great day!
ALL ANGLERS PLEASE NOTE. The barrier to the main car park is locked at 9 pm, so if you need to exit between this time and the end of an evening session, please leave your vehicle in the car park and not at the Bailiff's Hut. The duty bailiff will unlock the barrier as usual at the end of the session. Of course, in case of emergency, or by prior arrangement with the bailiff, you can ask him to unlock the barrier at any time.
A two fish per rod evening session is being introduced from April 18.
Anglers can still fish the full evening session from the same date (5 fish limit per rod) or opt to pay a reduced price for a two fish limit.
Prices will be the same as the half day 2 fish limit session – £10 per rod for members, £15 per rod for visitors.
The trial will run until May 31.
Around 40 members attended the club's AGM, held in the Masonic Lodge, Artillery Lane, Dundee, on Monday December 2, 2019.
New boat hire prices were recommended, and approved by the members. These are now available on this website.
Membership fees remained the same.
Please remember all membership renewals are to be with the Membership Secretary by February 29, 2020.


Election of Office Bearers
The following were elected unanimously by the members:
President – Ian Mclean
Treasurer – Duncan Inglis
Secretary – Ian Duffus
Fish Convenor – Brian Wilkie
Hut Convenor – Tom McKay
Baliff Convenor – Fraser McKay
Membership Convenor – Steve Carmichael
Booking Convenor – Peter Craft
2020 Club Championship
(Friday May 22)
Winner –
Runner-up –
3rd Place –


2020 Stewart Brymer Trophy
(Friday May 29)
Winner –
Runner-up –
3rd Place –


Heaviest Fish of the Month
The winners of the heaviest fish of the month contest 2020 are:
April –
May –
June –
July –
August –
September –
October –


Monthly Draw for Angus Angling rod, reel or line, April to October, 2020.
The winners:
April –
May –
June –
July –
August –
September –
October –


Monthly Draw for fly box and flies tied by Aaron Philip, April to October, 2020.
The winners:
April –
May –
June –
July –
August –
September –
October –






Get in touch
Address: Monikie Angling Club, Monikie Country Park, Dundee DD5 3QN.
Phone/email
Phone: 01382 370300 to book a boat.
email: admin@monikie-angling-club.org.uk